January 25, 2015 ~ "A Story About God" from John Knox Kirk on Vimeo.
A sermon preached at John Knox Kirk of Kansas City, Missouri, on January 25, 2015.
Psalm 30
and Mark 1:14-20
Editorial note: I'm working on correcting spacing issues. Thank you for your patience in the meantime.
(Click above link for the Scripture texts upon which this sermon is based)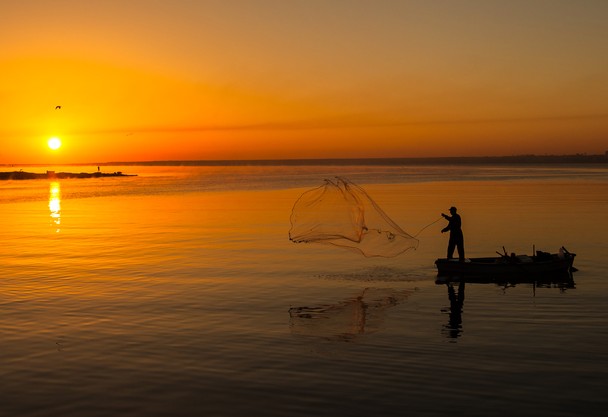 As some of you may know,
in a previous life I was a doctoral student, studying Theological Ethics
at the University of Chicago.
And students in ethics spend a lot of time
thinking about the TRUTH of human capabilities:
the art of the possible.
So they explore things like Will and Choice and Agency
what it means to be a human being with responsibility.
They explore thought experiments like telling someone:
Ok, Think about anything you want,
but DON'T think about the color blue…
Then they ask the question "So, what are you thinking about?"
The color Blue, right?
Ethicists ponder all of this and then
they try to work out how human beings should live their lives
based on shared values and convictions.
But when I read stories like what we have before us from Mark,
I wonder sometimes if we make too much of human volition.
Our freedom of choice.
Don't get me wrong.
CHOICES: … about what we will believe and how we will act;
…about where we will live and whom we will love;
…about what we will do for a living…
…these are all IMPORTANT,
and we would be crazy to take them lightly.
Of course they matter.
Barbara Brown Taylor has a great take on this text,
and this is largely her exploration of it,
but as she notes:[i]
"Belonging to God is NOT a matter of going limp
     in God's arms, after all."
WE are CALLED, to love,
  to serve,
   to heal,
   to forgive.
In ancient language—we are called to IMITATE Christ
to make choices that resemble the choices Jesus made.
When we AGONIZE too much over these choices, however,
we fall into the ancient trap of "works-righteousness"—
that's the comfortable old delusion that we can,
by our own good decisions,
by our own good actions –
that we can SAVE OURSELVES.
If we will just work hard enough, we tell ourselves,
if we will pray enough
if we will help enough,
if we will serve enough,
if we volunteer enough in thankless jobs,
if we strive in service of enough good and "right" causes,
if we give enough—THEN God will claim us in the end.
THEN Jesus will recognize us as his own true disciples,
because of all the GOOD things we have accomplished.
"Well done, thou good and faithful servant"
    is how we hear it in the Bible.
"Oh, what a good boy or girl you are"
    is how we hear it as a child.
"Good job, couldn't have done it without you"
    is how we hear it as adults.
But this is a form of IDOLATRY.
It is a particularly American form of idolatry—
–because we have so many choices,
and because we have it drilled into our heads
that God helps those who help themselves!
God does NOT help those who help themselves!!!
That is NOWHERE in the Bible
(though, when surveyed, 72% of Americans say it is).[ii]
God does NOT help those who help themselves…
…God just helps—all the time, in all situations—
–if you will let God,
no matter how hard you may
or may NOT
be working in that particular moment.
As my friend Mark Ramsey has put it,[iii]
         –what we may have LOST along the way
                           is a full sense of the POWER of God—
         –to recruit people who have made terrible choices,
–to invade the most hapless or aimless lives,
and fill them with light,
–to sneak up on people who are thinking about brunch,
NOT GOD,
and smack them upside the head with GLORY….!
///
Take this morning's story, for instance.
Most people hear it and right away start worrying whether they have
what it takes to be a disciple.
Could you do it?
If a clear call were to come to you tomorrow afternoon,
could you get up from your chair and walk straight out the door,
without taking your keys or turning out the lights?
Could you abandon your grocery cart
in front of the frozen food case at Price Chopper
and set off for parts unknown,
without stopping to call or text home?
Would you follow someone, almost sight unseen,
without first asking questions, you know, about money,
and insurance,
and travel,
and duties?
That is more or less what they did—those first four disciples.
Someone they had NEVER seen before in their lives said,
"Follow me"—
–and they did—leaving their families,
their jobs,
their homes behind in order to go with him.
Simon and Andrew had LESS to lose, apparently.
It's a fair guess that they were poor fishermen,
since Mark makes no mention of a boat.
They cast their nets from the shallows of the sea,
and sorted their catch on the beach, by themselves.
James and John, however, had much more to walk away from:
a boat,
hired men,
their father, Zebedee.
But—rich or poor—BOTH sets of brothers turned away
from all the familiars of their lives
in order to go after a stranger who called them to follow…
///
Except, this was NOT how it was done in those days.[iv]
Rabbis did NOT seek students—students sought them.
Teachers waited for people to come to them,
and then they would interview them, carefully,
before deciding whether or not
to take them on as disciples.
Only the most promising students were allowed to stay—
-those who showed real aptitude for theology, or ethics.
No self-respecting rabbi would EVER have gone out
to recruit his own followers,
and, IF he had,
he surely would NOT have picked the first four people
he laid eyes on!
But, by doing just that,
Jesus set himself apart from the other teachers of the time.
He alone walked out among ordinary working people
and CHOSE them—without a single question—to be his friends.
///
But that is not the strangest thing about this story, about this Jesus.
The strangest thing…is that they went along with him.
Not one of them, or two of them—but ALL of them.
He called, and they followed,
for which we tend to give them, the disciples, ALL the credit.
What strength!
What courage!
What faith those four must have had to do what they did—
–sacrificing everything to go after him!
What heroes of faith!
Well, nonsense!
According to Mark,
there was NOTHING hard about it at all.
Jesus called and they followed. Period.
They did NOT know him.
They were NOT waiting for him.
Chances are they would NOT have described themselves
as particularly religious types—
–maybe they were even a bit suspicious, or jaded,
at what religion had to offer—
—but they took one look at Jesus…and that was that.
No angst,
no torn hearts,
no backward glances.
They just dropped what was in their hands and went after him—
–without saying a single word.
It was NOT as if they DECIDED something.
It was more like something happened TO them—
–almost beyond their control.
///
If you ask me, this is NOT a hero story—but a MIRACLE story,
as full of the power of God
as raising Lazarus from the dead.
Listen to the language of the miracle stories in the Gospel of Mark:
         "Be made clean," Jesus said to the leper—
–and immediately he was made clean.
"Stand up, take your mat, and go to your home"
he said to the paralyzed man—
–and the man stood up and immediately took his mat
and went home.
"Go, your faith has made you well," he said to the blind man—
–and immediately he regained his sight.
"…FOLLOW ME…" Jesus said—
–and immediately they left their nets and followed him!
Can you hear it?
This is NOT a story about the power of human beings
to change their lives,
to leave everything behind and follow.
This is a story about the power of God—
         –to walk right up to a quartet of fishermen and work a miracle:
            creating faith where there was NO faith,
creating disciples where there were NONE
just a moment before…
This is NOT a story about US.
This is a story about GOD—
–and about God's ability not only to call us,
but ALSO to create us as people who are able to follow—
–able to follow because we cannot
take our eyes off the one who calls us—
–because he interests us more than anything else in our lives,
because he seems to know what we truly hunger for
and because he seems to be FOOD.
It is a miracle—
–and to look at it any other way, it seems to me, is to DEFORM the story,
twisting it into a tall tale about four courageous fishermen
who sacrificed ALL to serve their Lord.
They did NO such thing.
If they did anything under their own power at all,
it was simply that they allowed themselves to fall in love.
Jesus showed up,
they took one look at each other,
and the rest was history.
God acted—and the disciples let their nets wash out to sea…
And sure—at one level, that moment cost them plenty.
They gave up a lot in that moment
and they would lose a lot MORE before they were through—
–but to stress that aspect of this story
is to put the accent on the wrong syllable.
Their minds were NOT on what they were leaving,
but on WHOM they were joining.
Their hearts did NOT cleave to what was falling from their hands,
but to what they were reaching out to FIND—
-and in that God-drenched moment of their turning to follow—
–a MIRACLE happened:
–their lives flowed in the same direction as God's life;
–their wills were NOT two, three, or four—but ONE will.
Time was fulfilled.
God came—and comes—
-every time our OWN lives are brought into the same flow,
so that we TOO allow ourselves
to fall in love,
and to follow God—
–and we can do NO other…
///
I am no expert—
as Saint Paul said, I have NO word from the Lord on this—
–but if you ask me—
–then I think sometimes we read this story too narrowly.
I'm not sure that following Jesus is ALWAYS
a matter of leaving everything behind.
That is what it meant to Andrew and Simon and James and John—
–that is what it meant in their particular lives
at that particular time.
BUT, if the story is about being swept into the flow of God's life,
and giving ourselves over to it—
–then it seems to me that it will be
a different story, you know, for each one of us
in our own particular lives.
Sometimes, following may mean staying home.
It may mean letting the hired servants go
and taking care of Zebedee when he gets too old to fish.
Sometimes following may mean casting
the same old nets in a NEW way, or for NEW reasons.
It may mean doing something different with the fish you catch,
or spending the money they bring at market
in a DIFFERENT way.
it may mean reorganizing the whole FISHING business
and going after NEW fish…in risky new ways.
It may mean doing LESS every day—NOT more,
so that there is time to watch how light changes on the water
and how the happy fish leap out of it at dusk,
happy to have outsmarted you one more time.
The possibilities for following seem ENDLESS to me.
Sometimes they will be BIG, no doubt about it.
Sometimes we are called to change our life,
to challenge our perceptions,
to radically alter our opinions
and our sense of the future,
and our forgiveness of the past.
These are BIG things—and they cost us a lot.
Sometimes, though, the possibilities will be too small even to mention.
BUT—EITHER WAY—it would be a mistake, I think,
     to focus too hard on our own parts
in this miracle of FOLLOWING,
this miracle of discipleship.
The God who called us can be counted on
       to create us as a people who are able to follow.
This God can cut through any resistance,
any fear of change,
any anger about beloved things lost,
any anxiety about the future.
God has created us as creatures capable—every day—
       –of embracing NEW LIFE!
///
So, a shift has happened, over the last generation or so,
in the spiritual values of our culture.
It is a shift from the emphasis on what is TRUE
(doctrines, dogma, propositions about belief)—
–to what is REAL
      (experiences that touch us,
       move us,
           inspire us…)
Of course, these are not mutually exclusive categories
but the SHIFT is not something that we can ignore.
Likewise, we CANNOT read these "follow me" texts
just looking for the "truth" of it all—
–the "facts"—or understanding the "motivation".
From all the paths these disciples-in-the-making had walked,
with NO expectation of a different life than that
of nets and boats and fish—
–they experienced their REAL call,
their REAL life,
their REAL purpose.
If you've spent most of your life chasing the "facts"—
–trying to navigate by what you thought was "true"—
–you may want to take a moment
and take stock of what is REAL.
Where do you experience the HOLY, the SACRED?
Where do you encounter God?
What is REAL in your life
         and HOW do you know what's REAL in your life
         and HOW OFTEN do you take the time
                  to RECOGNIZE what is REAL in your life?
The disciples, that day by the nets and the boats,
experienced the most REAL thing of their whole lives.
And they may have been knocked for a loop,
or made dizzy with the sudden reversal of the arc of their lives,
or FRIGHTENED by the prospects…but they followed.
The God who called us can be counted on to cut through any resistance,
any fear of change,
any anger about beloved things lost,
any anxiety about the future.
God has created us as creatures capable—every day—
       –of embracing NEW LIFE!
Whenever and however our wills spill into the will of God,
time is fulfilled—immediately!
–and the Reign of God is at hand,
and God is nearer to us than breathing,
and we are in LOVE…
…and willing to go anywhere..
…into God's glad and gracious new creation!
Amen.
—–
[i] This sermon is inspired by and borrows extensively from Barbara Brown Taylor's sermon "Miracle on the Beach" as found in her book Home By Another Way. All credit for wisdom in this sermon as well as composition goes to her.
[ii] See the Wikipedia entry God Helps Those Who Help Themseves, accessed on January 24, 2014: http://en.wikipedia.org/wiki/God_helps_those_who_help_themselves
[iii] I found this sermon primarily through an adaption by the Rev. Mark Ramsey entitled "Choices" from 2006.
[iv] Also pertinent to this section is the imaginative midrash of Rob Bell in his Nooma Video
"Dust". See http://nooma.com/films/008-dust
Image: "Throw net fishing at sunrise" by Bill Klipp, accessed here: http://travel.nationalgeographic.com/travel/traveler-magazine/photo-contest/2013/entries/214421/view/