A sermon preached at John Knox Kirk of Kansas City, Missouri, on June 7, 2015.
Mark 3:19b-32
and Revelation 21:1-6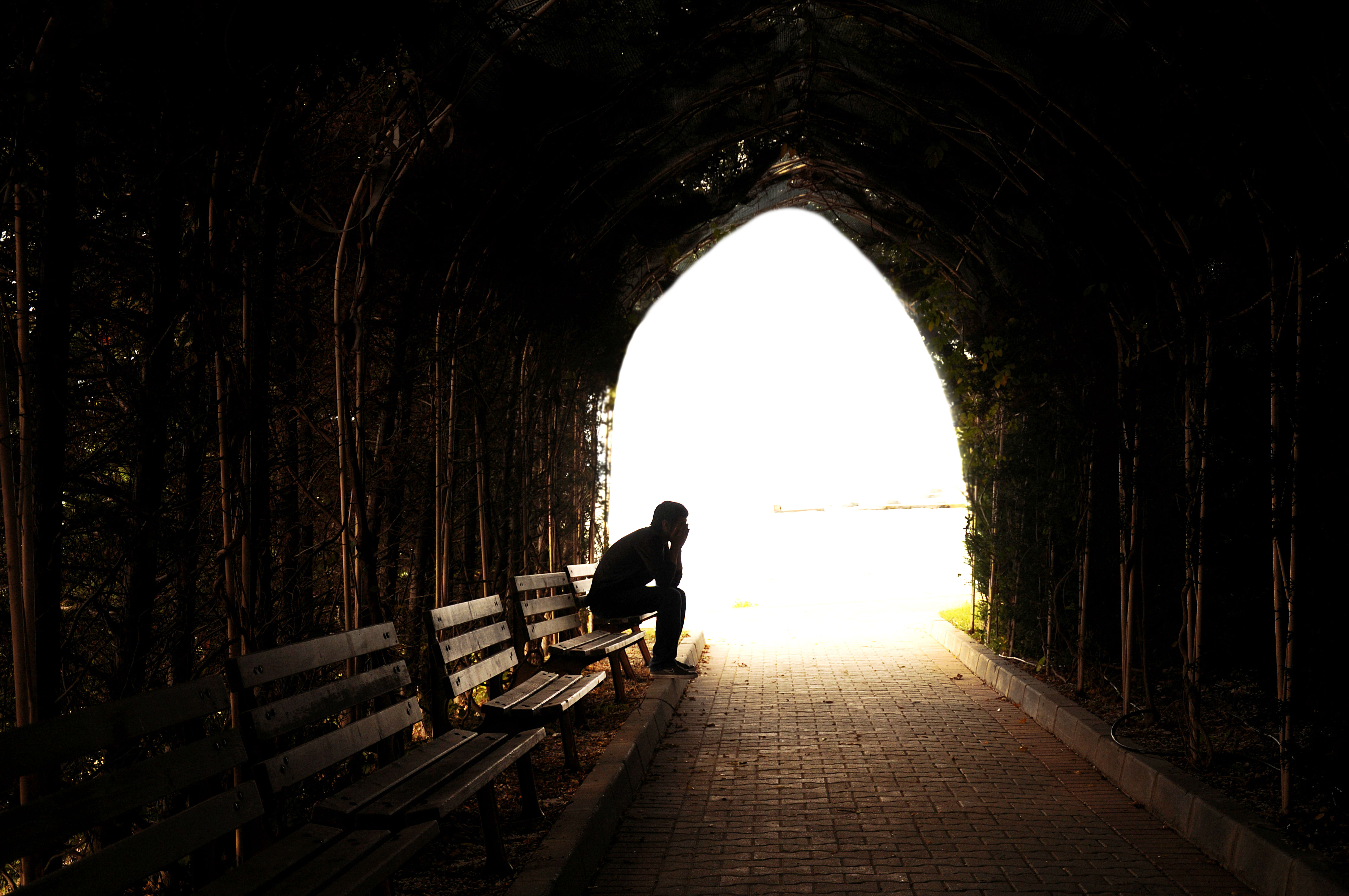 Many of you know that we ordinarily follow the lectionary here at the Kirk.
The lectionary is a set of suggested biblical texts for our focus each week
a three year rotation of readings
Two readings from the New Testament
And two from the Hebrew Scriptures
And we typically focus on two of these each Sunday in worship.
The reading from Mark that you just heard is from today's set of lectionary options.
But sometimes these texts, when you've sat with them for a while,
Beg to be put alongside other readings.
///
We've been looking at this reading from Mark in our bible studies this week and
There's a lot going on in this text:
Jesus going back to his home town and finding a hoard of people
Who want to be near him, to hear him
To be healed by him
Or who want to challenge him,
Confront him
Undo him.
So there's that.
And there's all that stuff tossed around to do that,
This language about Satan and Demons and unforgivable sins.
Even if we remember that the writers of the Gospels and Jesus himself
Were living with an ancient cosmology, an ancient way of understanding
How the universe works
For many of us this language strikes us as strange and bizarre
And maybe useless if we don't unpack it.
Its important for us to remember that "possession by demons" is often language
Used in the ancient period to describe what we might understand
As mental illness: bipolar conditions or schizophrenia or depression.
And while it is true that our tradition doesn't speak very often about demons
Or possession or the exorcism that we see Jesus performing in scripture
—for good reason, since that is an ancient worldview
that doesn't really have very much use for us—
we also don't speak very much about mental illness,
which is a shame.
Jesus was a healer, of body, mind, and spirit.
And Jesus was interested in bringing all sorts of healing,
Including relief from mental illness. THAT we shouldn't shy away from.
So as I was pondering all of that this week,
I kept remembering this section of the book of Revelation
Words that are often read during funeral and memorial services
But words worth pondering today as well.
I invite you to open your head and your heart to this word to us
From the author of the Book of Revelation:

Then I saw a new heaven and a new earth;
for the first heaven and the first earth had passed away,
and the sea was no more. 
And I saw the holy city, the new Jerusalem,
coming down out of heaven from God,
prepared as a bride adorned for her husband. 
And I heard a loud voice from the throne saying,
'See, the home of God is among mortals.
He will dwell with them;
they will be his peoples,
and God himself will be with them; 
he will wipe every tear from their eyes.
Death will be no more;
mourning
and crying
and pain will be no more,
for the first things have passed away.'
And the one who was seated on the throne said,
'See, I am making all things new.'
Also he said, 'Write this, for these words are trustworthy and true.' 
Then he said to me, 'It is done!
I am the Alpha and the Omega,
the beginning and the end.
To the thirsty I will give water as a gift from the spring of the water of life.
And may God bless to us our Reading
And our Understanding
And our applying of these words
To how we live our lives. Amen.
///
These days, I rarely watch television LIVE anymore.
True for almost everything except Royals Games, I think.
I'm surprised I get to watch much television at all,
But now with DVRs and the internet
There no longer the excuse of forgetting to rewind the tape
Or setting the VCR.
Sometimes, as the girls are sleeping soundly and I'm home folding clothes
I get the chance to catch up on my favorite shows.
A little Amazing Race. House of Cards. Game of Thrones.
Sometimes I find myself flipping through the ancient stuff on Netflix
By ancient, I mean 5 or 8 years ago.
And I found myself watching some old re-runs recently
Of a show called Scrubs. Do any of you remember that show?
Its a somewhat bizarre and irreverent but nonetheless entertaining comedy
about life among the staff at Sacred-Heart hospital.
I was watching this episode where they said goodbye to Nurse Roberts,
a steady hand and the voice of steadfast faith
at a place where often faith and hope gets challenged
and courage sometimes needs as much support as it can get.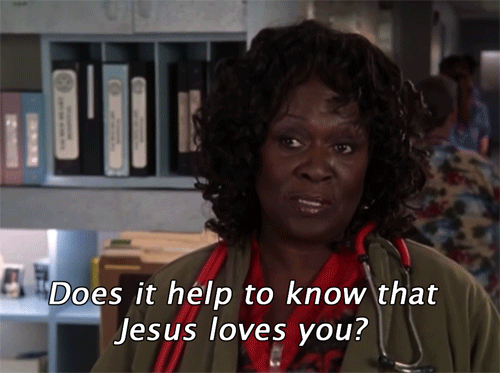 Nurse Roberts and one of the doctors, Dr. Cox, had recently gotten into a scuffle
about the existence of God, and why bad things happen to good people.
And they go back and forth with it,
in the middle of some horrible diagnosis and some similarly horrible grief
and just when Nurse Roberts convinces Dr. Cox of the need
for faith, for hope, for believing in the promise of God's grace,
Just as Nurse Roberts seems to win her debate
we learn that Nurse Roberts has been in a car accident on the way home.
Roberts is in a coma, an injury that will eventually take her life.
Its devastating.
///
Sometimes, I'm struck by where I find God speaking to me.
Even in those places where I'm trying to unwind,
like when I'm watching a comedy on television,
trying to unwind as my girls are sleeping.
Sometimes right there I find God…
Seeing the staff of Sacred Heart say goodbye to Nurse Roberts,
watching them deal with their own fragility, their fear, their doubts,
these are the things which we all recognize in our own lives,
these are the things you and I deal with in our lives,
these are the things which make us, in a very real sense, human…
What stuck with me the most was a scene at the end of this episode of Scrubs.
At the funeral for Nurse Roberts, her pastor,
a rather charismatic African American pastor, is offering his eulogy,
and sums up his gospel message, his message of Good News,
with these words as he's leaving the pulpit:
God Loves You, and there ain't nothing you can do about it.
///
God Loves You, and there ain't nothing you can do about it.
In the midst of the pain of loss,
in the middle of doubt, or fear, or worry, or concern.
God Loves You, and there ain't nothing you can do about it.
///
Sometimes I'm struck by where I find God.
But sometimes, I'm struck even more by those who can't seem to find God.
Contrast the good news of Scrubs with this very personal story
shared by Howard Stone,
Professor Emeritus of Pastoral Counseling at Brite Divinity School:[i]
"I am LOST, in an immense underground cavern
with tangled, unending passages…
Earlier I tried mightily to get out, to find the light of day again,
 but it is no longer possible and I no longer care.
I'm very, very tired.
I don't have energy to turn back, to find my way out.
It would be futile anyway.
I have no real hope for the direction I am going.
There is no real reason to continue, but I am afraid to stop;
I might never move again….
People (those who wish me well and those who don't) are irritants.
They want something from me, or they want to do something for me
(which I do not want)…
There is nothing I want to do. Nothing excites me.
Why should I go on?
I see no light, no end, no way out.
No one beckons me.
All that exists are cold, damp walls closing in on me.
Ahead is a useless journey, exhausted step following exhausted step,
leading deeper into the unknown."
Stone wrote these words late at night
in the midst of a long-term encounter with depression,
when the cavern he mentions was so vivid to him,
that bedroom where he wrote them was a blur…
Stone continues…
I was depressed.
I had been so for several months and had several more to look forward to.
I was not greatly incapacitated.
I functioned in my job, gave service to the community,
visited my friends, stayed married.
But there was little joy.
The images and the despair of that cavern
dominated my inner world for a long time.
I was one of the [millions] of people in the United States who,
at any given time, are depressed…
///
A few years ago I took part in a seminar sponsored by
the Center for Practical Bioethics
and the Mental Health Association of the Heartland
which looked at how religious communities can help us address
depression and mental illness.
Depression is a national epidemic,
one that we really don't talk about very much.
Consider:
Approximately 18 million American adults suffer from some form of Depression,
and at least 20 million Americans will experience an episode
of MAJOR depression sometime in their lifetimes.
Experts say that depression costs our society
around $44 BILLION dollars a year
in treatment, lost productivity, and other costs,
second only to cancer, and about as much as heart disease or AIDS.
Some studies show that depression is getting worse in our country,
with more cases showing up at earlier ages
and the risk of depression growing over the course of a lifetime.
Some 6 million elderly persons suffer from some form of depression,
but almost three out of four of these cases are
unrecognized, undiagnosed, or undertreated,
even if they are receiving regular medical care.
Depression is a national epidemic, but it is in many ways a quiet epidemic
there still being some sort of taboo around speaking about it,
or seeking treatment for it.
///
A question pastors are often asked is this:
What can I do about this sadness that won't leave me,
this aching, this void inside?"
And for every person who musters the courage to ask that question,
there are many others who feel it but who don't ask…
Depression can affect the whole self: body, emotion, and spirit.
Depression hurts: the body is tired, it aches.
Physical activity can slow down.
Appetite and sleep can be affected—one way or the other.
Depression affects emotions—with feelings of sadness, sighing, and tears.
And depression affects the spirit.
Christian Mystics used to write of "the dark night of the soul"
or an extended time of spiritual dryness where nothing, NOTHING seems to afford hope and light.
Where God seems absent.
Where grace seems to be unavailable…
Traces of this permeate scripture,
and can be seen, for instance, in some of our Psalms.
For instance, from Psalm 69:
Save me, O God, for the waters have come up to my neck.
I sink in deep mire where there is no foothold
I have come into deep waters; and the flood sweeps over me.
I am weary with my crying; my throat is parched.
My eyes grow dim with WAITING for my God.[ii]
///
What causes this battle with depression in many of us?
Well, No one really knows why.
Some of us are more prone to depression
because of genetics, or bio-chemical factors.
Sometimes personality type plays a role—
persons who are perfectionist, or particularly self critical,
or more self demanding may tend to suffer more.
And very often, there are harsh life situations that triggers this illness in us:
unresolved grief, a overwhelming sense of guilt, buried rage or anger.
And sometimes, like cancer, like bad vision, we don't know why it happens.
It just does.
///
Well, ok. Well and good. But what does it have to do with us?
Why talk about it here?
Depression is marked in many cases by hopelessness,
and we have something to say about hopelessness.
Depression is marked by a feeling of being abandoned,
and we have something to say about that, too…
We are a people who stake our LIVES on the testimony
that God has acted to redeem our deepest, darkest selves
that God has decided to stick it out,
and to walk beside us no matter what,
even if we can't always see God…
That's the message of Easter Sunday,
That is a message for EASTER people:
That God Loves Us, and there ain't nothing we can do about it…
That nothing in life or in death can separate us from God's love…
///
The fact of the matter, though,
is that this is not always a comforting thought to those
afflicted with this physical-emotional-spiritual disease called depression.
When you are suffering, when you are stuck in a cave,
with no light in sight, with no hope for the future,
with little energy to imagine a world where
God makes all things new,
we can hardly believe that the God who
offers hope and love and grace to all,
would actually come to US and alleviate OUR suffering…
When you feel alone, well, you feel ALONE.
///
The Good News is that depression is indeed
one of the most treatable of mental health maladies.
Some 75-80 percent of those who suffer depression
can achieve real relief through the proper course of treatment,
which might include some combination of good counseling,
possibly medication,
and the introduction of good life habits such as exercise, sleeping, and diet.
New ways of praying can help:
allowing yourself the space to express your grief,
your concern, your anger to God, as our psalmists often do.
Meditation can help,
as can support groups and communities of faith—like The Kirk—
where you can find unconditional love
and maybe someone to lean on as you wrestle with depression.
Or maybe just people who understand
who can dwell silently and faithfully with you
as you work to sense the light and the hope and the grace that God offers you…
And the good news that our faith offers is this:
God does not abandon us, even if we feel abandoned.
Throughout our scriptures, we see a God who walks beside us
who offers abiding support and care.
Thoughout the gospels, we see a Christ who is a healer,
a mental health professional, if you will
who casts out demons and who advocates for our wholeness.
In some ways, THIS is what attracted people to Jesus,
This desire to bring healing to people where they were hurting
And its what got him into trouble
The message that EVERYONE matters to God.
And when we consider this reading from the Revelation according to John
where we get a full vision of the world that God intends for us,
the world that God entered and dwelled and loved
through the person of Jesus Christ.
People often get the Revelation wrong.
They see a book where the faithful will be taken away
The rest of us left behind
They see allegorical stories written about specific conflicts
Between Jerusalem and Rome as an excuse to talk about
The idea that God's final days will be wrath and destruction.
No! That's wrong.
What we see is a world where God comes to us
Where God dwells here, in THIS world that God made and redeemed
And God works to make all things new HERE.
We get a vision of the world God is working towards:
'See, the home of God is among mortals.
He will dwell with them;
they will be his peoples,
and God himself will be with them;
he will wipe every tear from their eyes.
Death will be no more;
mourning and crying and pain will be no more,
for the first things have passed away.'
///
This vision of a new heaven and a new earth must spark us as a faith community
to advocate for those who suffer from depression,
to keep our doors open and our arms outstretched to all those who are hurting
to offer the good news that God is there,
working towards a day where mourning and crying and pain will cease.
to offer the good news that
that God loves us, and their ain't nothing we can do about it…
to walk beside those of us who suffer from depression
or who are themselves trying hard to support loved ones with depression.
///
Today we celebrate the sacrament of the Lord's Supper,
and we gather around this table that invites all of us—
young and old, men and women,
spiritually whole and spiritually broken
healthy or infirm
to gather together as one community.
There is healing HERE.
There is the acceptance of us by a loving Savior who restored, renewed,
challenged people regardless of their past,
a savior who, in spite of our feelings of guilt or shame or abandoned-ness,
embraces us, even with all of our conflicted feelings…
There is something HERE that offers wholeness, if only in part,
along with a vision and a participation in that wholeness that God promises…
that God wants for all of us.
Around this table, God is making all things new…
Today, as we celebrate this sacrament,
and remember the one who came to proclaim the end of mourning
who told us that discipleship entails loving one another…
–let us witness to the world that there is hope for the hopeless
love for those who feel no love
grace, and grace in ABUNDANCE, for those who can't quite touch it.
–Let us witness to the world that God's love is not just for the healthy,
but God's love abides with all of us, especially in our broken moments.
That God loves me. That God loves you.
And there ain't nothing we can do about it.
Amen.
—
[i] Resources for this sermon and many excerpts provided by the Center for Practical Bioethics and the Mental Health Association of the Heartland in their packet for Sabbaths of Hope: Faith Communities Responding to Depression, Christian Worship Resources. This particular story from Howard Stone "Depression" in Handbook for Basic Types of Pastoral Care and Counseling. Eds. Howard W. Stone and William M Clements. Nashville: Abingdon, 1991.
[ii] Psalm 69:1-3