Nov 8, 2015 ~ "The Future Kirk – Hopeful Giving" from John Knox Kirk on Vimeo.
A sermon preached at The Kirk of Kansas City, Missouri, on November 8, 2015.
Isaiah 40:28-31
1 Corinthians 3:7-11
and Mark 12:38-44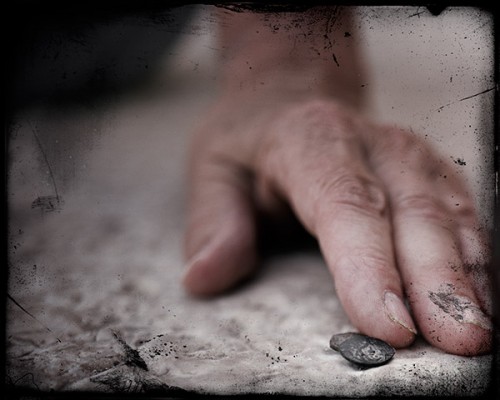 So it is stewardship season at the Kirk.
Packet pickup day in the Narthex
Members have packets with your name on it and if
you are a visitor we have Friends of the Kirk packets for you too.
They say the mark of any good fundraising operation is to give them something extra.
I pondered that a bit, and thought that, by golly, they're right.
So here it is, something extra:
I have an extra scripture reading for you!
In addition to the reading from Isaiah that Larry offered for us,
here is a bonus reading, from First Corinthians 3:7-11
7So neither the one who plants nor the one who waters is anything,
but only God who gives the growth. 
8The one who plants and the one who waters have a common purpose,
and each will receive wages according to the labor of each. 
9For we are God's servants, working together;
you are God's field, God's building.
10 According to the grace of God given to me,
like a skilled master builder I laid a foundation,
and someone else is building on it.
Each builder must choose with care how to build on it. 
11For no one can lay any foundation other than the one that has been laid;
that foundation is Jesus Christ.
Holy Wisdom. Holy Words.
Thanks be to God.
And then we have the Word this morning from the Gospel according to Mark
The story of the Widow's Offering:
38 As he taught, he said,
'Beware of the scribes, who like to walk around in long robes,
and to be greeted with respect in the market-places, 
39and to have the best seats in the synagogues
and places of honor at banquets! 
40They devour widows' houses
and for the sake of appearance say long prayers.
They will receive the greater condemnation.'
41 [Jesus] sat down opposite the treasury,
and watched the crowd putting money into the treasury.
Many rich people put in large sums. 
42A poor widow came and put in two small copper coins,
which are worth a penny.
43Then he called his disciples and said to them,
'Truly I tell you,
this poor widow has put in more
than all those who are contributing to the treasury. 
44For all of them have contributed out of their abundance;
but she out of her poverty has put in everything she had,
all she had to live on.' 
And may God bless to us our reading, and our understanding
and our applying of these words, to how we live our lives. Amen.
///
So I was reading up a bit on Advent, which is just around the corner you know.
If you didn't know, all you have to do is go to Starbucks,
where the Red cups are now available
and soon peppermint will overtake pumpkin spice
as the latté du jour.*
[*Note: I wrote and preached this before there was a big fake "War on Christmas" controversy with Starbucks and their red cups. That controversy is inane, and isn't referenced by this facetious comment]
I re-read about Mary and Joseph going to Bethlehem for a census
I became interested in this ancient practice of counting the people.
It was, apparently, not an easy thing to do.
In ancient Rome, from around 250 BCE to 130 BCE
census figures fluctuated between around 150,000 and 400,000 citizens.
But later censuses,
those after about 30 BCE or so, had totals of four million to nearly six million.
That's a big difference.
Modern folk like us, naturally, ask the question:
Huh, this is interesting.
Did the later surveys over-count, or did the earlier ones undercount?
So researchers have tried to resolve this using discovered coin hoards.
In times of unrest, apparently, someone who buries treasure to keep it safe
might not survive to recover it.
Burying coins was apparently the ancient version of a savings account.
Those of you who've dug deeply into the parables and sayings of Jesus
might remember that even Jesus talks about this from time to time
with the parables of the business man or the ruler
who entrusted his wealth to his servants
only to have some of them not invest it to make it grow
but buried it, to keep it safe, ostensibly.
Or the story of the lucky guy who finds a treasure buried in a field
and went and sold all he had to buy it.
Coin hoards. Who knew?
Apparently, if these hoards are found later, and can be accurately dated,
they can give an objective way to measure the violence of any particular decade.
The more stashes of money, the more intense the upheaval.
The researchers then use the model to predict
what the population would be in the first century BCE—
–given the known unrest of the period.[i]
So all of that was swirling about
when I started thinking about our story from Mark today.
I mean: this reading of the widow who shows up at the temple with her only two coins.
She CLEARLY didn't get the memo
about HOARDING coins during difficult times.
Those who put together the lectionary always seem
to assign this reading right around Stewardship season.
What better to stir us to faithful living and giving,
than to model the widow who gives everything she has—her whole living.
…Well, ok, I think we can dispense with the sermon now,
  and get straight to filling the baskets…
…EXCEPT…I think Mark's gospel has a lot more going on here
beyond this widow's example of faith and courage.
///
Have any of you used "Google Earth?"
It's the mapping program that takes detailed satellite images
from nearly every corner of the globe, and makes them accessible
from a little app or your web browser
When you first open Google Earth,
what you first see is our planet, floating in outer space.
Then the program quickly zooms in on whatever spot or other
you are searching for.
You can go from 200 miles above the atmosphere
to a close up of your driveway in about three seconds.
THAT is how I feel about Mark's gospel in Chapters 12 and 13.
Mark is focused on this particular faithful widow… (up close)
…AND with the power elite of the time…
…as well as the TEMPLE—
–the LARGEST center
of religious authority of that time. (way far away)
The Gospel points us to essential JUSTICE and PIETY…
…AND to the religious establishment—the very structure of the church
BOTH at the same time.
These are rarely put together.
In fact, they are almost always seen as being in competition.
In budgets—"do we want to care for those in need…
  or are we going to fix up the place where we gather?"
In giving—"I don't mind giving to help people,
but I'm not wild about my money
  going to light bills and copy machines…."
///
About twenty years ago,
a church I was attending decided we needed to build on to the church a bit—
–more classrooms,
music rehearsal space,
some space for mission…AND a new entry way:
a covered entry, for people to more easily
be dropped off for mobility or weather issues.
It was a LONG entryway—probably 40 feet long and wide..
and it became a sort of LITMUS TEST for our congregation…
When first opened—it was beautiful—glass and wood and tile.
Then…not much later: it became the place to leave clothing to be donated
to the local homeless shelter.
And to leave toys to be given to the pediatric clinic….
And books for the tutoring program….
And food for the food pantry….
Soon, we began to hear rumblings…
"…we spent all this money to have a nice entry way
 and it is always filled with stuff
  and so crowded
  and looks so disheveled.
What sort of impression will THIS make on visitors?"
Exactly.
A church building can be a tool…
…I guess it can be an albatross sometimes.
Or it can try to be a PALACE.
I've learned…that it can also be a LITMUS TEST—
revealing true values and priorities.
///
Thirty five years ago, when ethicist and theologian Stanley Hauerwas
was teaching at Notre Dame,
he was involved with a urban church in South Bend, Indiana.
The story of this church was typical—
they were located downtown
and as the downtown began to struggle, so did the church.
Changing neighborhood,
dwindling membership—BUT they saw their mission as being RIGHT THERE
and were committed to staying downtown.
But then the roof began to leak—pretty badly.
They got estimates.
They could do a patch job for $2000…
…or they could do it right for $10,000.
One option was a tough swallow.
The other option felt like climbing Mt. Everest.
After much debate, it was clear to the church that the $10,000 option
made the most sense.
The debate was fierce though:
HOW could they consider themselves as being
committed to the city, and to the poor
by spending so much…on themselves?! On that building!?
What witness was THAT to their neighborhood??
Well, Hauerwas says, the neighbors noticed.
As soon as the scaffolding went up, the neighbors noticed
that not only was the church repairing its roof,
it was doing it in FIRST CLASS fashion.
…And the response of the neighborhood
was NOT scandal, but ENCOURAGEMENT!
The church was told by several of its neighbors:
"You have said by this action that you were serious
when you said you were going to STAY
in our neighborhood."
NOT ONLY that…but the church had been sharing its building
with an African‐American Pentecostal church.
The pastor of that church said to the pastor of the Methodist church:
"You know, we share your building,

but we DON'T know if we shared your values.
We did not trust you or your ministry.

As a matter of fact, your building is SHABBY.
You've welcomed us, but into a place of disrepair.
"But NOW…we're beginning to believe

that you are true to your promise
and to a SHARED vision."
"Who would have known," Hauerwas said,
"that a boring, contentious decision in a board meeting
[a decision] about a ROOF…would end up being
a PROPHETIC action?"[ii]
That may be close to what Paul was getting at when he wrote to Corinth:
"For we are God's servants—working together—

YOU are God's field…YOU are God's building."
That starts to blur the line between what is bricks‐and‐mortar
and what is holy work.
When we pledge and give money—as we are doing together this month:
Are we funding a budget, running a building—
­­OR are we FUNDING the IMAGINATION

for what God can do with and for and through us?
It's a GOSPEL TRUTH: God wants to do MORE through us

than generally we think we can or want to do ourselves.
‐‐That is NOT a fund‐raising pitch.
‐‐It is a statement about the power of God
to shape and nurture our imagination!
‐‐It is a CALL for us to do everything we can
so God's distinctive voice,
God's embracing welcome,
God's gifts,
God's mission—has everything it needs.
///
Seminary professor Tom Long grew up in a little church in rural Georgia.
It was a congregation of a 100 or so red clay Georgia farmer folk.
It was quite conservative and quite insular.
Tom Long remembers:
"One Sunday, we were at worship.

In the middle of the sermon,
the door at the back of the sanctuary opened
and in walked a man we had never seen before.
The stranger walked halfway down the side aisle
as every eye turned to look
and the preacher stopped the sermon.
"Who was this guy?

The church was near the railroad tracks—
­­maybe he had ridden into town on a boxcar.
Maybe he had hitchhiked into town.
We didn't know who he was or where he had come from.

He stared at us for a long moment, and we stared right back.
THEN, just as suddenly as he had entered,

some look of panic crossed his face—
­­he ran back up the aisle, out the door,

and we never saw him again."
What was interesting about that, however,
was that for WEEKS after that—
‐‐the adults stood under the maple trees in the front yard of the church
and TALKED about what had happened.
…And they finally arrived at a Georgia farmer theological consensus.
And the Georgia farmer theological consensus was NOT
that the worship had been interrupted by a transient,
but that, as Long recounts:
"we had failed some great moral test."
"That God had sent us a stranger…and we had NOT shown hospitality."
Somewhere along the line, that community had worked to fund
their collective imagination that they were a people
who worshipped a God who WELCOMED STRANGERS…
…and they knew, in the end,

that they were God's field—they were God's building.[iii]
And…EVERYTHING they did,

and EVERYWHERE they gathered—needed to reflect that truth!
///
There is a tiny little Methodist congregation in a remote part
of the Chesapeake Bay region of Maryland‐‐
‐‐it's part of a three‐point charge for their minister.
One summer, some visitors decided to go to church there.
They arrived at the church at the appointed hour for worship,
but the minister was NOT there.
This was NOT unusual.
The minister has to serve all THREE churches on a Sunday morning, that's what a three-point charge means
and so the start times are staggered
and she drives as fast as she can from one to the next.
Therefore, this church has developed a custom called:
"The liturgy of waiting on the preacher to get here."
It was being led by a layperson.
He was taking hymn requests.
They were singing hymns,
then taking announcements,
and thanking everybody for their contributions
to the Peach Festival,
THEN, it came time for prayer—
‐‐so they took prayer requests.
Somebody mentioned a sister in St. Louis who was having surgery.
And somebody mentioned a kid who was going off to college.
And other prayer requests were made…
…and this was during the time when build up to war in Iraq
was just beginning to rumble—
‐‐and somebody said, "we need to pray for the people in Iraq."
The worship leader was not prepared for that one.
And he said "Well, uh, we need some leadership
in Washington and I don't think we have it."
And then somebody over by the piano said
"I…think we should pray for the leaders in Washington."
And somebody in the back said: "And the leaders in Iraq."
And somebody else said:
"Yeah, we were taught we were to pray for our enemies."
And the woman who started all this said—
"Not just pray for them…but LOVE them!"
…And all this was taking place in a little Methodist church

not big enough to have its own minister
out in a cornfield by the Chesapeake Bay.[iv]
SOMEBODY—in worship, and education, and mission—
‐‐had FUNDED the capacity for that congregation
to have an alternative and prophetic imagination.
YOU…are God's field.
YOU…are God's building.
And as CRUCIAL as all our giving and pledges are today—
­­MORE important still is how our giving
will FUND our IMAGINATION for what God's love and hope
can do in this world and in Kansas City—
­­today…and tomorrow!
///
And so Jesus sat down opposite the treasury

and watched many rich people come and put in large sums.
THEN a poor widow came and put in two copper coins
which together make just a penny.
Seeing this, Jesus called his disciples and said,
"Truly I tell you—this poor widow has put in MORE
than all those contributing vast sums—
­­for they all contributed out of their abundance—

­­but she has put in everything she had—her whole living."
And while that is TRUE—and can be used to reinforce
an important value‐‐that EVERY gift of every size matters—
‐‐the typical "punch line" we preachers put on this text is:
"…Oh friends, would it be today that we would find

the sacrificial giving we find in this poor woman…
oh…and the PLEDGE CARDS

are before you in the pew racks!"
BUT…if we back up just a bit, and examine the context—as Jesus taught he said,
"beware of the scribes who like to walk around

in long robes and be greeted with respect
and get the best seats in the synagogue
and the place of honor at the banquet—
­­they DEVOUR widows houses…!"
REALLY?
They devour widows houses…and JESUS SAT DOWN

OPPOSITE the TREASURY…
…and he saw the rich making a mockery of their giving
and then into the temple came a poor WIDOW—
‐‐and she poured into the treasury box her WHOLE HOUSE.
Jesus summoned his disciples—did you see THAT??
What are they supposed to see?
They are supposed to discern—YES—the difference between
shallow giving and deep giving—
­­but they are also called to discern the difference between

a religious institution that honors and protects widows
and ALL those in need…
…and those who suck the blood out of them!
Do the disciples understand this?
I don't think so…because then just then they are leaving the temple
Mark chapter 13 tells us
and one of the disciples turns around and says in effect:
"GOLLY! That's a beautiful church!"
ONLY THEN does the Gospel of Mark deliver the punch line—
‐‐Jesus says—"Do you see that temple?

NOT ONE STONE will be left upon another!
That's what happens when religious institutions

do not care for those in NEED!
///
…Which is another way of realizing that EVERY YEAR
when we come to this season and this stewardship commitment—
‐‐whether is it expressed in pledge cards
or in regular faithful giving—
‐‐comes ALSO a need and a commitment to RENEW
and DEEPEN our values.
To invite ALL—we mean ALL—people in here,
to nurture faith in each one of us—
‐‐from youngest to oldest—
‐‐to know and tell the stories of faith and hope and love
that God provides in every corner of our life.
And THEN to use those stories to propel us out into this world
that is so broken, and so needy—to lend our hands,
to lend our hearts.
And to use that deep EXPERIENCE of God's GOOD NEWS
to transform this place—
–as an outpost of God's love,
–as a prophets voice:
…announcing LIFE
and JUSTICE,
and COMFORT,
and PEACE,
and UNSTOPPABLE LOVE,
and UNQUENCHABLE HOPE.
Too much?
Is that too much to reach for, to hope for…from PLEDGE CARDS
and offering plate gifts? Hopeful giving?
God wants to do MORE through us

than we ourselves think we can do.
It's NEVER too much,
it's never too far,
it's never too high.
…You are God's field.
…You are God's building.
Amen. And Amen.
—
[i] "Counting Coins to Count Rome's Population" by Henry Fountain, The New York Times, October 13, 2009 http://www.nytimes.com/2009/10/13/science/13obcoins.html?_r=0. Gratitude for sermon content and ideas to the Rev. Mark Ramsey from his 2009 sermon "Funding Imagination"
[ii] "Raising the Roof" Stanley Hauerwas, Christian Century, February 16, 1998
[iii] From a sermon by Tom Long, Festival of Homiletics, 2006
[iv] Op Cit.
Image found at http://www.fatherjames.org/2012/11/09/the-might-of-the-widows-mite/