A Plan for Following Jesus.
Faithful Living for Hard Times: Return No One Evil for Evil.
July 30, 2017 – "Faithful Living in Hard Times – Return No One Evil for Evil" from John Knox Kirk on Vimeo.
A sermon preached at The Kirk of Kansas City, Missouri, on July 30, 2017.
The fourth in a ten part sermon series on our community charge:
Go out into the world in peace;
have courage;
hold on to what is good;
return no one evil for evil;
strengthen the fainthearted;
support the weak,
and help the suffering;
honor all people;
love and serve the Lord,
rejoicing in the power of the Holy Spirit.
Scripture readings (which you may wish to read prior):
Luke 15:11-22
and Romans 12:9-21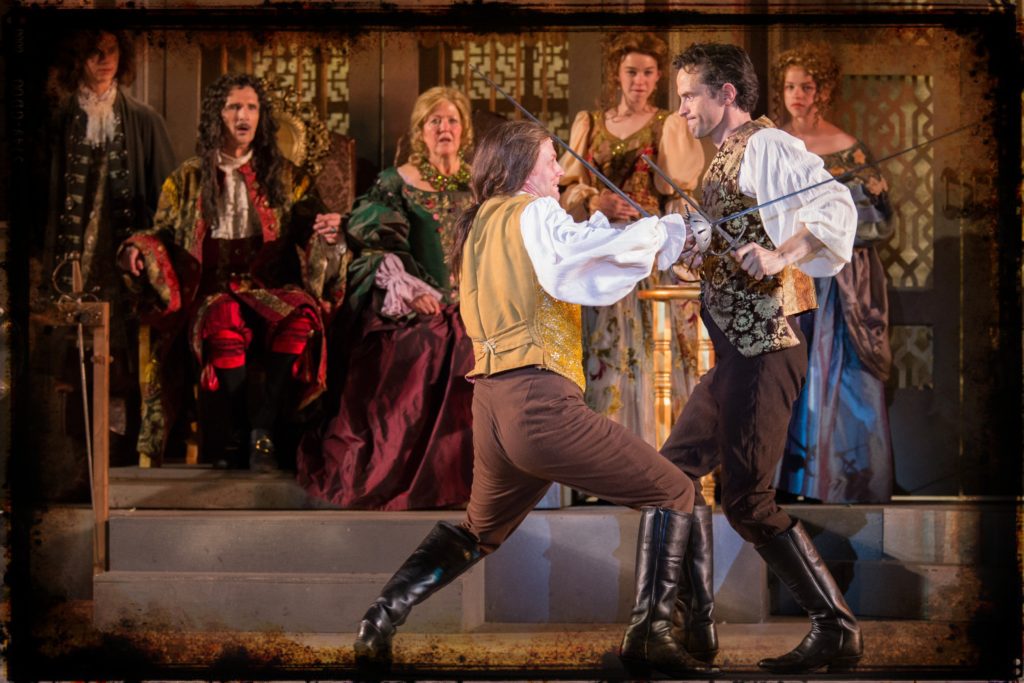 A few weeks ago, our family spent one sweltering Sunday evening
Taking in the Heart of America Shakespeare festival
with some friends of ours. It was great.
This year the show was Hamlet.
Hamlet is wonderful in its own right,
But this performance had the added bonus of featuring
the dashing Nathan Darrow, a local guy, went to Shawnee Mission North,
the actor who famously played Meechum in House of Cards.
In Shakespeare's Hamlet, 
there is the scene where old Polonius,
He's an aging, sentimental blowhard,
And the scene shows him giving advice to his son, Laertes.
Laertes is preparing to leave for France, and old Polonius,
knowing what sometimes happens to 18-year-olds in Paris,
does what parents do – he offers ADVICE.
Most of his advice is rather innocuous.
In those days, a seemingly more innocent time,
there wasn't really any important parental advice like,
"Always remember what the Surgeon General says…"
Polonius' speech to his son is a favorite of Shakespeare lovers.
Its the kind of text that a High School English teacher reads
the last day of class senior year.
I've heard that you can find these words of Polonius painted
in grand six-foot tall letters on the walls of a dining hall
at Indiana University
for all the students 
to meditate upon as they eat breakfast.
People in Indiana ought to know,
that as it turns out,
Polonius' advice–like a lot of advice parents give their children—
–is mostly hot air and doesn't bear much analysis:
"Be thou familiar, but by no means vulgar."

"Give every one thy ear, but few thy voice"

"Neither a borrower nor a lender be; to thine own self be true…"
What is that supposed to mean—"To thine own self be true"?
Act like yourself?
Sometimes, parents hope that's the LAST thing
their sons or daughters will do
when they leave home.
Laertes, like most eighteen-year-olds,
politely stands on one foot and then the other
while his old man prattles about,
"Neither a borrower nor a lender be. . .
to thine own self be true."
After all, parental advice doesn't usually do harm
—
as long as it's NOT taken too seriously.
Can you imagine some of the things your parents have told you
printed in six-foot letters
across the wall of a university cafeteria?
"PICK UP YOUR SOCKS OR YOU'LL NEVER GET MARRIED."
No wonder that by the time most people reach ADULTHOOD—
–we have become inoculated to advice of ANY KIND.
It's a self-protective mechanism to preserve us
from the onslaughts of the Poloniuses of the world.[i] [Read more…]