A Plan for Following Jesus.
Faithful Living for Hard Times: Have Courage.
July 16, 2017 ~ "Faithful Living in Hard Times – Have Courage" from John Knox Kirk on Vimeo.
A sermon preached at The Kirk of Kansas City, Missouri, on July 16, 2017.
The second in a ten part sermon series on our community charge:
Go out into the world in peace;
have courage;
hold on to what is good;
return no one evil for evil;
strengthen the fainthearted;
support the weak,
and help the suffering;
honor all people;
love and serve the Lord,
rejoicing in the power of the Holy Spirit.
Scripture readings (which you may wish to read prior):
Isaiah 12:2-6
and Genesis 32:22-31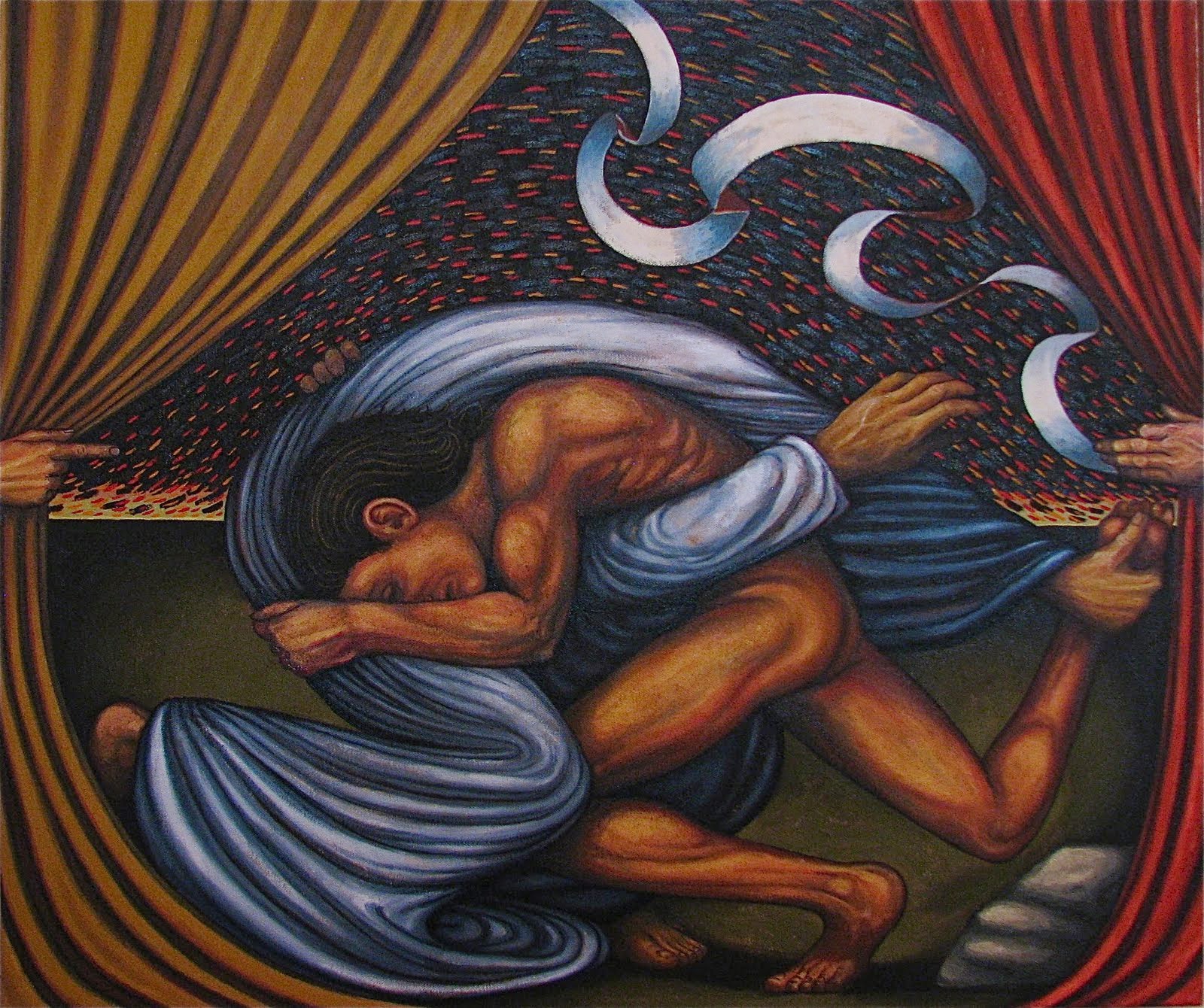 So there was an impromptu celebration dinner this one night.[i]
It was on a cruise ship of sorts
just a local vessel providing service between the islands
but the whole ship—passengers and crew
was there to honor Jonathan.
The head chef had the galley humming
And they prepared an elaborate array of food for the guests.
Drinks were flowing.
People were chatting and laughing.
The band was getting into it, too, you know
And the guests were on the dance floor
Electric Slide
Macarena
Texas two step
(I know, I thought that sounded out of place too
but who knows)
The point was that they were all in full celebration mode: all for Jonathan.
Jonathan was this unassuming guy from New Jersey
And what had happened was, earlier in the trip, a few days ago
Someone had fallen overboard.
It was a scary situation, to say the least.
But no sooner than he had fallen overboard,
Jonathan was right there next to him, in the water
And they were able to keep him safe and circle around
and pluck the two back up into the boat
No worse for wear.
And this party was their effort to thank Jonathan, to honor him.
So there was good food.
And there was music, and laughter, and dancing.
The captain was there, at his table in the front
And they had Jonathan up there sitting next to him, in the seat of honor.
And the time came when someone took a knife and rung it on a glass
To get the noise of the party to simmer down a little bit
And the captain rose and said a few words
About his thirty two years at sea,
never having seen anything so amazing
as a fellow passenger acting so selflessly as to do that, you know.
And the assembled crowd applauded, and the captain turned to Jonathan
And had him come up to say something too.
So Jonathan got up, and went to the little lectern over there
And he thanked everyone for everything.
And he said:
This has all been so great. Thank you very much. Thank you.
There's just one thing, though. One thing I want to say.
 I really, really just want to know
  Which one of you pushed me?
///
Our sermon series is looking at a roadmap for faithful living,
One way of helping understand and nurture the values
We share as those who follow Jesus Christ out into the world.
This isn't a sermon series on THE way to follow Jesus
Because we think human beings are more complex than that.
God made each one of us to be MORAL human beings
With the capacity and the responsibility
Make choices in our lives.
We're looking at a set of values that are useful for helping us do that.
Affirmations that we see from the life and teaching of Jesus
And from the first apostles
And from the history of God's engagement with God's people
That we find in the Hebrew Bible
All of which give us encouragement to live a faithful life
And ways to discern what is faithful living from what are unfaithful choices.
///
Have Courage.
That's today's value.
Have courage.
Courage is the willingness to say and do the right thing
Even when the cost or the consequence of doing so
 Is going to sting.
Courage does what is right because it is right
 Knowing that it is going to be hard
 Or that you don't really want to do it
 Or that it will be painful in some sense if you do.
That's not an easy task.
By its very nature, Courage is hard.
It requires self-less-ness to be willing to endure pain
For something or someone else.
I think my biggest failure of nerve, failure of courage
Was the time Brook and I were in DC for the summer
Both of us had internships there in college
And it was the Fourth of July break
And we were on the mall there near the Washington monument
Getting ready for the fireworks
And it was crowded. [Read more…]