A sermon for Heartland Presbytery:
preached at The Kirk of Kansas City, Missouri, on April 14, 2018.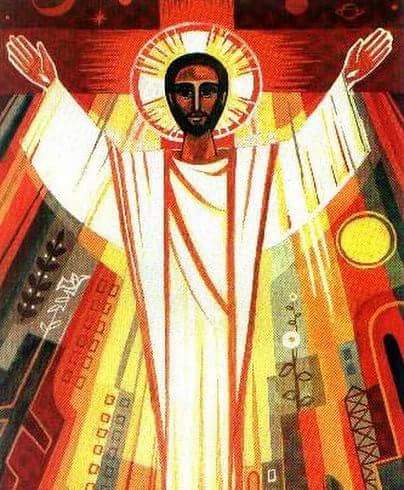 Good morning, my friends.
I'm glad you're here today.
All of us at The Kirk are grateful for the ties that bind us together
in Heartland Presbytery, for your friendship and your encouragement in the faith.
Sometimes our work has us so focused on our little piece of the pie
That we forget how God has an entire bakery goin on
With so many good treats in the oven for hungry people to savor.
Not to go overboard with a metaphor:
–But when we worship together,
–when we gather in plenary
–Or around shared mission, as some of us at The Kirk have begun to do at the invitation
Of our friends at Second Presbyterian Church
With our Be The Church Sunday in October,[i]
(I know many of you have your own examples of shared mission)
–Or when we share our resources
for disaster relief through Presbyterian Disaster Assistance
For fighting hunger, for helping people develop their own lives well
Through our giving to One Great Hour of Sharing
–Or today, when we will offer gifts to the Heartland Youth Encounter
When we do these things,
we see more clearly how our slice of Chocolate Cream or Apple or
If we're really on top of it
Maybe its Strawberry Rhubarb pie…
We see how our own particular slice is one of many many goods
Available in God's wonderful Bakery.
I did go overboard with that metaphor. Wow.
So I am glad you are here today.
And I'm honored for a chance to preach for our worship today.
Humbled, actually.
///
I've not preached since Easter.
That's a strange thing: you go go go through Lent, to Palm Sunday and
Then Maundy Thursday and Good Friday and maybe for some of us
A Holy Saturday or midnight vigil or Sunrise service, and then
The emotions and the energy and the brilliance of the resurrection itself
The empty tomb and the wonder that follows
just the movement of that morning
All of it pushing forward, pushing outward into the world
As the awareness of that amazing gift slowly becomes real.
If you live it, it kind of knocks you over. And you are ready to get moving.
To go out and be part of all that energy and wonder and excitement.
This is Easter, you know. Easter.
I am surprised how hard its been not to be in the pulpit since Easter Sunday.
I had to travel last weekend.
I didn't really feel that power of Easter walking from terminal to terminal at some airport
Going from Uber to hotel to meeting back to Uber and home again.
I wanted Easter! Give me resurrection excitement. Give me new life!
Instead I dealt with turbulence at 28000 feet. A different kind of excitement, to be sure.
Besides, I love these stories the first few weeks after Easter.
Sure, A friend and colleague filled in quite admirably for me,
And, as more than one of you have told me,
it is a designated "Associate Pastor Preaching" Sunday after all
on some church calendars with more than one pastor on staff.
But these post resurrection stories are so rich,
So full of possibilities, and hope
Both of which I know many of us in this room seek to have more of
In our individual ministries, in our churches,
Possibility and hope.
So last week it was John: the disciples, huddled in a room,[ii]
The door locked, the shutters drawn
Hidden away
And Jesus comes,
And he stands among the ten remaining apostles hidden away there
Peace be with you
And they are astonished and they see and they touch and they
Believe
Ten? you say. I thought there were twelve?
And that's true. But one was Judas, he's not there
And other was Thomas, the twin,
who was out running errands or something
stocking up on milk and cereal and bread and fish…who knows [Read more…]