A sermon preached at John Knox Kirk of Kansas City, Missouri, on January 25, 2015.
Psalm 30
and Mark 1:14-20
Editorial note: I'm working on correcting spacing issues. Thank you for your patience in the meantime.
(Click above link for the Scripture texts upon which this sermon is based)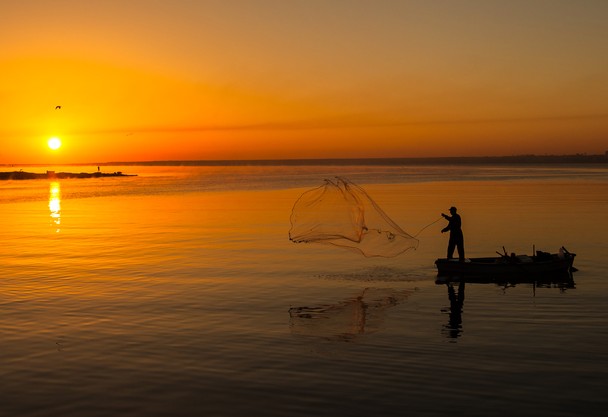 As some of you may know,
in a previous life I was a doctoral student, studying Theological Ethics
at the University of Chicago.
And students in ethics spend a lot of time
thinking about the TRUTH of human capabilities:
the art of the possible.
So they explore things like Will and Choice and Agency
what it means to be a human being with responsibility.
They explore thought experiments like telling someone:
Ok, Think about anything you want,
but DON'T think about the color blue…
Then they ask the question "So, what are you thinking about?"
The color Blue, right?
Ethicists ponder all of this and then
they try to work out how human beings should live their lives
based on shared values and convictions.
But when I read stories like what we have before us from Mark,
I wonder sometimes if we make too much of human volition.
Our freedom of choice.
Don't get me wrong.
CHOICES: … about what we will believe and how we will act;
…about where we will live and whom we will love;
…about what we will do for a living…
…these are all IMPORTANT,
and we would be crazy to take them lightly.
Of course they matter.
Barbara Brown Taylor has a great take on this text,
and this is largely her exploration of it,
but as she notes:[i]
"Belonging to God is NOT a matter of going limp
     in God's arms, after all."
WE are CALLED, to love,
  to serve,
   to heal,
   to forgive.
In ancient language—we are called to IMITATE Christ
to make choices that resemble the choices Jesus made.
When we AGONIZE too much over these choices, however,
we fall into the ancient trap of "works-righteousness"—
that's the comfortable old delusion that we can,
by our own good decisions,
by our own good actions –
that we can SAVE OURSELVES.
If we will just work hard enough, we tell ourselves,
if we will pray enough
if we will help enough,
if we will serve enough,
if we volunteer enough in thankless jobs,
if we strive in service of enough good and "right" causes,
if we give enough—THEN God will claim us in the end.
THEN Jesus will recognize us as his own true disciples,
because of all the GOOD things we have accomplished. [Read more…]