Drenched.
A sermon preached at The Kirk of Kansas City, Missouri, on January 8, 2017.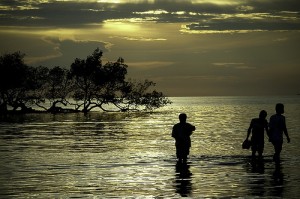 So we're thinking about Baptism this morning.
I was watching an old favorite last night,
The Cohen Brothers film O Brother, Where Art Thou.
George Clooney, John Turturro and Tim Blake Nelson
Play three escaped convicts trying to get to the treasure
That Clooney stashed away following some robbery
Before the whole area is flooded to make a new lake.
It's a goofy modern satire, based somewhat on Homer's Odyssey.
And in one scene they're standing around on a trail arguing about something
When out of nowhere, it seems, they're surrounded all of a sudden
By a chorus of voices.
And these people, scores of them
step out of the trees of the forest and walk right by
Oblivious to them and their troubles.
The voices are headed down to the river, which is what they're singing about:
I'll go down to the river to pray
Studin about that Good ol way
And who shall wear, the starry crown
Good Lord, Show me the way
So the three escapees follow the crowd down to the river
Where they witness several people getting baptized.
And, so moved by this, one of them rushes in to get baptized too…
Take a look…
Its such a great scene. The look on Clooney's face when these two dive right in.
It reminded me of another video I showed you once
Though I was asking around this week many of you didn't remember it
So I'm going to show it again,
Maybe the most joyful baptism I've ever seen:
Now how fun was that?
The waters of baptism just weren't enough for the first dunking.
///
Did you see how the water just got EVERYWHERE?
They're drenched, the boy, the pastor,
The congregation, the escaped hapless vagabonds in O Brother.
So we're thinking about Baptism this morning.