What Do You See?
April 16, 2017 – Easter – "What Do You See?" from John Knox Kirk on Vimeo.
A sermon in two voices,
preached at The Kirk of Kansas City, Missouri, on Easter, April 16, 2017.
Scripture readings (which you may wish to read before the sermon):
1 Corinthians 15:1-11
and John 20:1-18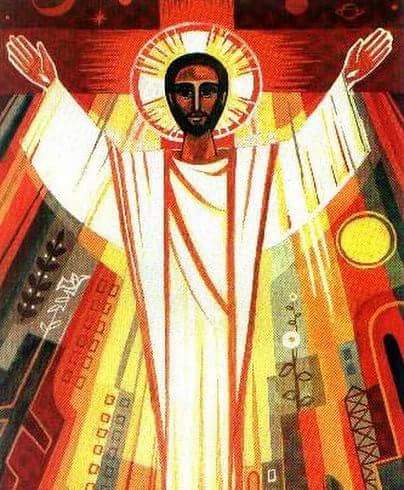 [Chad]
If you look closely, and if you listen closely,
You can find yourself here, in this story,
this story of breathless energy and passionate searching and daring hope.
That's John's point, after all, telling this story this way.
There's Something about Mary
Mary of Magdala, or Mary Magdalene as we've come to call her
She opens John's story for us
When it was still dark, on that first day of the week.
If you're just turning your head to pay attention to what has been going on
This has been a brutal, violent, bloody week
The sort of week that leaves you shell shocked, off your heels
A "drinking water from a firehose" sort of week
for those who have been following the rabbi Jesus of Nazareth.
One minute he was causing a scene, the good sort of scene
entering Jerusalem with pomp and circumstance and celebration
Palms waving, bestride a colt to cheering, yearning masses
Innocent enough…
But then it all went to hell
Tables are overturned
The arrest, the trial, the denials and the rejection
And finally the death.
Not a quick death, mind you, but a humiliating, painful, public death.
And it was over.
They were broken.
Lots of times, we know from experience, people bend,
they bend and the bend and they bend
And sometimes they break. People break.
The followers of Jesus were broken.
Mary of Magdala was broken.
But she did something none of the others ventured to do, according to John.
She went out.
It was dark. It was quiet. But it is the city. There are eyes everywhere.
It wasn't safe, but she went out anyway,
Compelled to go to the tomb that morning.
She approached the place where Jesus lay
Why? Why go back there?
She saw him die, with her own eyes.
Wasn't that enough?
John told us she was there, THERE there
There at the foot of the cross with those other women named Mary
Mary, Jesus' mother
Mary, the wife of Clopas
And this Mary, Mary from Magdala
Did you know there were so many people named Mary so close to Jesus?
These women who were early disciples, followers and leaders along with Jesus…
Mary Magdalene she was closer than almost anyone else to what happened on Friday.
When Jesus breathed his last. She heard it. She experienced it.
She was there.
She stayed, John says, until just before dark
When two men, named Joseph and Nicodemus, brought a ladder
And lifted him down.
She followed as they carried his lifeless body and wrapped it in linen grave clothes
And placed it in Joseph's garden tomb.
Only after all of that did she turn in
Returning to the place where Peter and John and the others were hiding.
///
The disciples were broken, yes,
But maybe especially was she.
And she had to go see… him again. His body broken, just as she was now broken.
What was she looking for?
I'm not sure we know, exactly,
but I think I understand that drive to get out
To take all the energy of worry and hurt and loss
that pushes you to go DO something
Even if you don't know what that something quite is.
The other stories we have about Jesus,
From the Gospels we call Matthew, Mark, and Luke,
The other Gospel writers all give her a PURPOSE
for going back to that tomb, Easter morning
as if her aimless angst was too much for them to bear
She's there to ritually prepare the body with spices, they say
One of a larger group of women, doing their duty.
But John is on to something here
Closer to what we might feel ourselves on our own dark mornings
A restlessness,
A searching.
JRR Tolkien once famously said that "Not all who wander are lost"
A reminder that sometimes we set out without knowing exactly why,
but still with purpose, still fulfilling a need…
So Mary Magdalene found herself there, at the tomb,
that early first-day-of-the-week morning.
///
John is asking us to be attuned to our feelings, to our senses
As we walk our way through this story this morning.
Good advice: since we can be numbed by the violence and the hurt in our own world
And miss out on the nuance, the texture of new life when it bursts onto the scene.
John is asking us: What do you see? Look closely. Pay attention.
You just might find yourself in this story, somewhere…
[Read more…]